OPENPORT: Realtime Performance, Sound & Language Festival (2007)
OPENPORT brings together artists from a diverse set of contemporary practices for an international festival featuring live acts and
real-time transmissions from practitioners within performance, sound, and the language arts. The festival presents thirty-three artists, both established and emerging, in a series that will take place over four weekends in February 2007 at Links Hall, an intimate performance space in Chicago.

OPENPORT is an invitation to converge on the theme of live and real-time in contemporary culture and practice. Keywords include: the live body, network presence, virtual embodiment and disembodiment, duration, speed, live writing, programmatic composition, realtime
processing, live data acquisition and mapping. Links Hall, the host location for the events, will be transformed into a permeable public space, an access point for both physical and virtual arrivals and interventions.

In conjunction with the OPENPORT performances, there will be several events throughout Chicago including a symposium at the School of the Art Institute of Chicago featuring prominent visiting and local scholars and artists, a lecture series at Joan Flasch Artists' Book Collection, and a panel discussion at the Chicago Cultural Center.


OPENPORT performance text


OPENPORT Postcard, Links Hall

OPENPORT Postcard, Links Hall

OPENPORT Postcard, Links Hall


OPENPORT Pamphlet, Links Hall

OPENPORT Pamphlet, Links Hall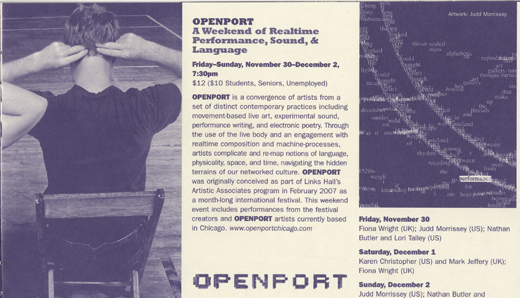 OPENPORT Pamphlet, Links Hall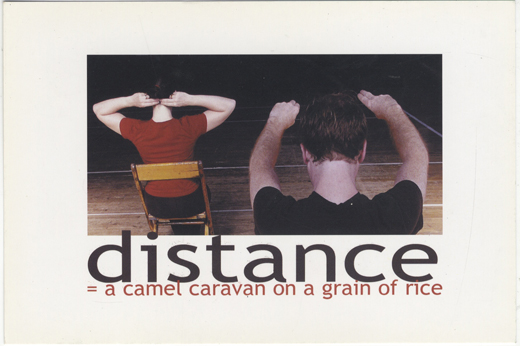 OPENPORT Postcard, Links Hall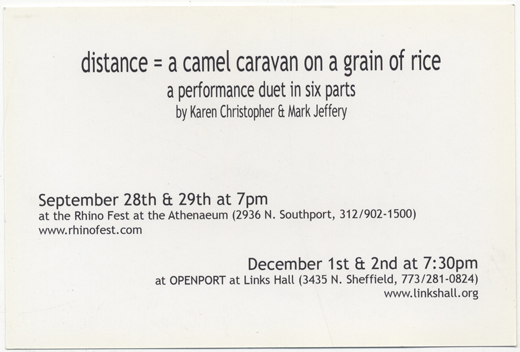 OPENPORT Postcard, Links Hall OPENPORT - roll over images to view ephemera

Listen to a Bad at Sports interview with the curators of OPENPORT: LINK
© Mark Jeffery 1994 - 2011