The Simulationists (2011)
February 1 - March 23
Betty Rymer Gallery, SAIC
280 S. Columbus Drive, Chicago, IL
The Simulationists: An exhibition, a panel and an evening of performance curated by Claudia Hart, Mark Jeffrey and Judd Morrisey
THE SIMULATIONISTS: Mixed Reality Performance is an interdisciplinary exhibition exploring the performative expression of presence in our digitally mediated and networked culture. Through gallery performances, physical artifacts, and installed digital media, this interdisciplinary exhibition will address the impact of digital technology, networks, computer code, avatars, and virtual environments on our understanding and expression of embodied performance.
In THE SIMULATIONISTS, artificial realities and real bodies, and in turn, artificial bodies and real environments interpenetrate and transform one another. While The Simulationists may be choreographers, performers, cineaists, writers, engineers, or some imprecise melding between these, they all transform space through the hybridization of digital and physical processes. They are world- builders, trespassers, escape artists, data-bodies, avatar dancers, and poets of code and language.
The exhibition, co-curated by Claudia Hart, Mark Jeffery and Judd Morrissey, all professors at the School of the Art Institute of Chicago, will include selected contributions from students and alumni of two of their SAIC studio courses, Live Presence, Technology, Virtual Spaces, and Digital Bodies. The student projects will be shown alongside work by contemporary artists who were studied in the classes and therefore directly influenced students' production.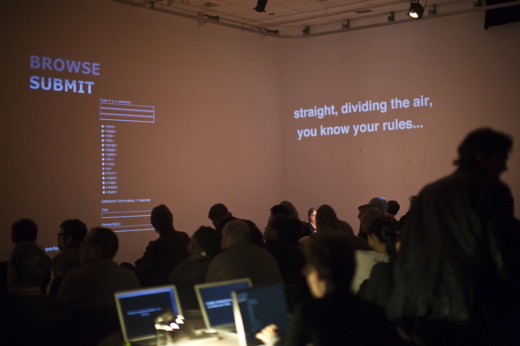 HTML Butoh
Ursula Endlicher
http://www.ursenal.net/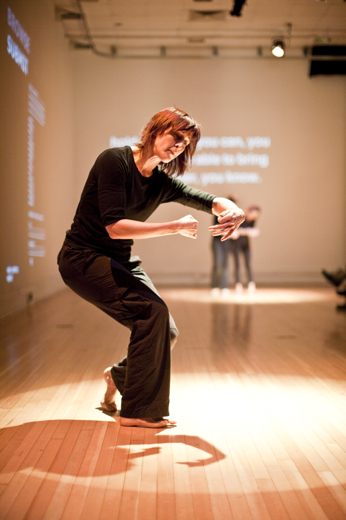 HTML Butoh
Ursula Endlicher (Pictured Above: Virginia Krebs)
http://www.ursenal.net/


Mutant
Tessa Siddle
MFA 2010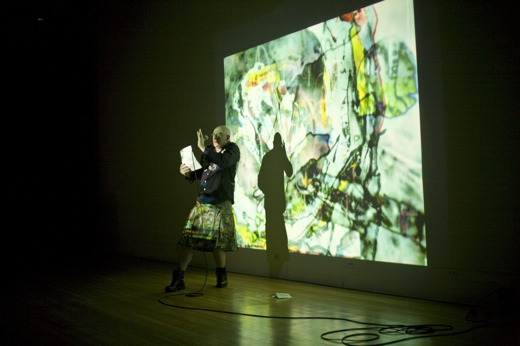 The Simulationists
cris cheek performing

TBA
TBA
TBA



TBA
TBA
TBA


TBA
TBA
TBA



TBA
TBA
TBA



TBA
TBA
TBA
The Simulationists - roll over images to view slideshow

The Simulationists: Exhibition & Event Calendar

The Simulationists: An exhibition with cris cheek, Ursula Endlicher,
Kurt Hentschlager, Second Front, Alan Sondheim and Student Artists
February 1 - March 23, 2011; Rymer Gallery, School of the Art Institute of Chicago

The Simulationists: An Evening of Mixed Reality Performance
with cris cheek, Ursula Endlicher and Kurt Hentschlager
February 18, 2011; Performance Space, 280 S. Columbus Drive, Room 012,
School of the Art Institute of Chicago

Mixed-Reality Performance Symposium: with Ghislaine Boddlington,
Christopher Salter and performing artists
February 18, 2011; Performance Space, 280 S. Columbus Drive, Room 012,
School of the Art Institute of Chicago
© Mark Jeffery 1994 - 2011